W.J. Roué was a man of great pride and vessels built to his design were of particular importance to him. He took great care to ensure each and every vessel born on his drafting table was built to his standard and to his satisfaction, and so it is an inherent duty of his descendants to ensure the integrity of his designs is maintained and his reputation is held harmless by enforcing the copyright which he so obviously placed on his creations.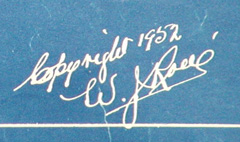 More than 200 vessel designs were created by W.J. Roué – for which many of the original design packages still exist. The entire collection remains copyright protected and so permission is required for any use. [see design portfolio here.]
It is our goal to see W.J. Roué's design genius enjoyed for generations to come – used accurately and appropriately in the process; we encourage you to contact us so that we may work together with you to help realize your dream.
Almost 800 vessel design drawings by W.J. Roué are in the archives at the Canadian Museum of History as part of the William James Roué Collection. While they are available for research and study, it is important to note the Intellectual Property Rights for all of his design drawings remain with the Roué family; therefore the Museum will require written permission in order to provide reproductions.
Should you be interested in using or reproducing any work authored by William J. Roué please complete our application (for permission to use).
Notice
All architectural work authored and created by the late William James Roué is protected under International copyright law.
The described work may not be reproduced, copied, projected, disseminated, used or altered in any way, alone or with any other image(s), by hand or use of a computer or any other electronic means, saved to a digital file for personal or commercial use, without express written permission. Creating a derivative work, a work that is substantially similar or an adaptation thereof is strictly prohibited, as is any distortion, mutilation, or other modification of, or other derogatory action in relation to the said work, which would be prejudicial to the honour and/or reputation of William James Roué.